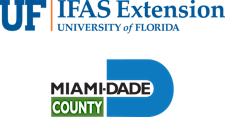 Vanessa Campoverde. UF/IFAS Extension Commercial AG/Ornamentals
The University of Florida/IFAS Extension Miami-Dade County  is the liaison between research conducted by scientists at the University of Florida and other universities and our local community.
The nursery industry in Miami-Dade County is large and diverse. There are more than 1500 nurseries in the county, and they produce everything from bedding plants to tropical foliage to tender perennials. We are the #1 county in Florida for ornamentals production and #2 in the country.
Contact the UF/IFAS (Commercial Ornamental program) Extension agent: Vanessa Campoverde at 305-248-3311 EXT 241 or evcampoverde@ufl.edu.
 We focus on educational outreach through:
workshops
seminars
phone consultations
group meetings
office visits
educational materials
field demonstrations
newsletters
web sites
plant clinics
mass media
video conference
Sorry, there are no upcoming events