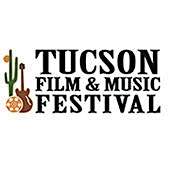 Tucson Film & Music Festival
The 2020 Tucson Film & Music Festival (TFMF) special event premieres March 6-7 at the Screening Room, 127 E. Congress Street in downtown Tucson, AZ. The festival showcases music-related films with a special nod to films and filmmakers with a connection to Arizona or the desert southwest.
TFMF is part of an Arizona non-profit organization dedicated to creating community through cinema, theater and documentary filmmaking.
#TFMF #TucsonFilmFest
Sorry, there are no upcoming events