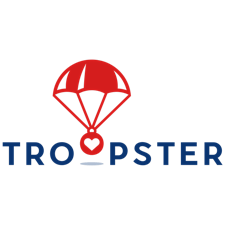 Troopster | Military Care Packs
Care packages are a symbol of love and support, and at Troopster we believe that care packs should be as effortless as they are rewarding. Founded by a Navy veteran, our mission is to provide a simple and enjoyable process for anyone to send personalized care packages to the brave men and women serving in the military.
Our mission is to provide personalized military care packages as well as donation packages to troops who are deployed or stationed away from home. A simple and easy way to send a care package to a loved one serving overseas. Friends and families, military spouses, children or good samaritans can easily pick from more than 40 great care pack kits. Add photos, letters, games, snacks and send the perfect pack without the trouble normally associated with the pack process. 
Troops LOVE care packages. Don't let life or the fact that you don't know a service member get in the way of sending a care pack.