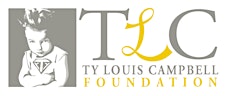 The Ty Louis Campbell (TLC) Foundation
Our Mission:
The Ty Louis Campbell (TLC) Foundation is a certified nonprofit organization that funds innovative research and technology specifically geared toward the treatment of the deadliest childhood cancers (including brain and spinal cord tumors).  Our organization seeks less toxic, more effective treatments that are specifically designed for children fighting cancer.   Our ultimate mission is to help fund the intelligence and technology that will uncover new ways to cure children with cancer.   
Our Reason:
Pediatric cancer is the number one cause of death by disease among children.  It doesn't discriminate. It happens at random sparing no ethnic group, socio-economic class or geographic region.  There is no known cause or prevention for most childhood cancers.   Almost one out of four children diagnosed with cancer die, and the average age of death is only eight years old.  Then examine the quality of this short life.  These little victims will fight a nightmare so great their young, innocent minds can't fully comprehend what is happening.
Pediatric cancer patients are robbed of their childhood fighting this disease, and then many, if they survive the toxic medication, are robbed of their future by the lifelong side effects.  Ty Louis Campbell, for example, was unable to walk or play with his toys for two years – even when he was cancer free, because of how badly the treatment harmed his little body.  He became paralyzed from head-to-toe and ultimately died in his parent's arms after a valiant fight.
Sorry, there are no upcoming events