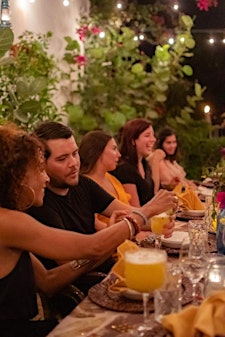 The Secret Garden Aruba
My name is Tina Causey-Bislick and The Secret Garden is my private little slice of paradise on the island of Aruba. Growing up in the deep south, eating dinner together and talking and sharing over a home-cooked meal was a priority for my family. My parent's love for cooking and entertaining our friends and neighbors in our home was a distinct part of my childhood. With the passion for hospitality ingrained in my soul, my career path led me to a role as a catering and event planner, coordinating meals for two U.S. Presidential campaigns, planning events for the PGA tour, weddings big and small, and a variety of corporate and social events.
In 1999, I moved to Aruba and have called the One Happy Island my home for two decades, and even married a local boy--my husband, local professional musician Michael Bislick. Together we opened Hollywood Smokehouse, the island's first and only smokehouse, which today operates for catering, pop-ups, and special events.
My latest venture combines my passion for entertaining in my home, a love of gardening, and my roots of comfort food. The Secret Garden is located at my home--a replica of a traditional Aruban "cunucu" home. Our tropical garden is the setting for a magical in-home private dining experience at a communal table. Several dining experiences are offered, with an emphasis on comfort food that makes you go mmmm. Vegans can rejoice, as well, as we've created several menus bursting with global flavors.
Joining me on this journey is Tony Dandrea, a chef with Venezuelan and Italian heritage. Tony prepares uniquely delicious dishes and his artistic presentation brings our plates to life. Playing an equally important role as our event hostess is Tracey Schilders, an expat from Baltimore that has lived on the island for more than two decades. With a background in theatre and hospitality, Tracey makes every occasion entertaining.
Sorry, there are no upcoming events