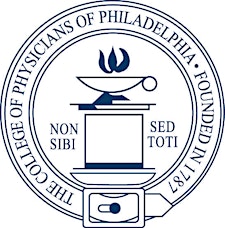 The College of Physicians of Philadelphia
The College of Physicians of Philadelphia is the oldest medical society & the oldest steward of American Medicine, and is regarded as the "Birthplace of American Medicine", offering insight into medicine's past, present and future.

Our specimens, book collections, archives, personal journals and ephemera are more relevant today than ever – attracting more visitors and users of our collections and facilities than ever before in our history.

Dedicated to advancing the cause of health while upholding the ideals and heritage of medicine, the College remains an unbiased community resource without allegiance to one healthsystem, a particular educational institution or industry.

The College's historical contributions to medicine are bolstered by our contemporary public health and education programs. Read about our educational programs at http://www.collegeofphysicians.org/education/, and our majorly successful History of Vaccines project at www.historyofvaccines.org.
Sorry, there are no upcoming events