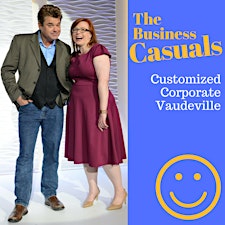 The Business Casuals
The Business Casuals are Conference Innovators who present humorous and content rich conversational presentations mixed with customized business skits, executive interviews, musical numbers and group improvisation.
The Business Casuals also serve as Masters of Cerimonies, facilitate board meetings, and present workshops & breakouts on teamwork, creativity, presentation/performance and use or humor.
The Business Casuals' Motto:
"Keep'em Laughing, Get'em Thinking!"
To discuss bringing in The Business Casuals for your next national convention, state association conference or company meeting call: 214-457-5656
Melanie and Dean's bio and more info at:
--
MelanieMurphySpeaks.com
--
DeanLindsay.com
Clean Corporate Vaudeville - True EnterTRAINment
The Business Casuals: Keynotes, Breakouts, Masters of Ceremonies - Customized Scripted Business Scenes & Improv... Get them Laughing, Get them Thinking.
Sorry, there are no upcoming events