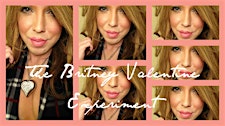 The Britney Valentine Experiment
The Britney Valentine Experiment
Starring
Kody Christiansen
FEATURING:
Alison Klemp
Amanda Lee
Brette Morning Star
Brianna Leigh Smail
Danielle Alleyne
Julio Dominguez Ramirez
Katarzyna Walczak
Phillip Johnson
Rob Romero
Ruben Navarro
Sophie Mitchell
Tim MacCallum 
...and other special guests
It's Britney Valentine, Bitch! She's back and starring in a brand new off Broadway spectacular unlike anything you've seen before. Britney and her crew turn the theater into a night club with a unique show that features Comedians, Broadway Singers, Drag Queens, Hunky Shirtless Men, Gorgeous Women, SNL Type Sketches, an Audience Member Participating Game Show and a fantastic musical closing number! Britney opens the show with a brand new live music video performance and don't be surprised if you see some familiar characters making cameos through out the show! The Britney Valentine Experiment is an explosion of entertainment!
Sorry, there are no upcoming events