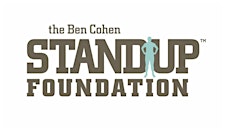 The Ben Cohen StandUp Foundation, Inc.
The Ben Cohen StandUp Foundation, Inc. is the world's first foundation dedicated to raising awareness of the long-term, damaging effects of bullying, and funding those doing real-world work to stop it. We stand up against bullying regardless of to whom it happens. Because lesbian, gay, bisexual and transgender (LGBT) people are often targeted by bullies, we give particular attention to this community. We include promoting diversity and inclusion in sports as central to our mission.
The Ben Cohen StandUp Foundation, a registered 501c3 non-profit, is funded, in part, through profits generated by the StandUp social-commerce brand, making it the first social-commercial brand focused on LGBT causes. Individuals and corporations contribute generously to the Foundation as well. To engage the consumer marketplace and help drive social change as a partner, visit www.standupfoundation.com. 
About Ben Cohen
Ben Cohen, MBE, is among the world's greatest athletes.  He is an England Rugby World Cup champion, and second in all-time scoring for his country.  He is first among straight athletes to focus his philanthropic efforts for the benefit of LGBT people.  In May 2011, Mr. Cohen retired at the top of his game to found the Ben Cohen StandUp Foundation.  As Chairman of the Foundation, Mr. Cohen travels worldwide speaking to students and corporations about the importance of character, respect and equality in creating a kinder world. The cause is close to his heart, as Mr. Cohen's own father was beaten to death when he stood up for an employee who was being attacked.  Mr. Cohen has reached millions of people with his message through global media coverage, films and nearly 300,000 followers on social media.  With his leadership, cities across the United States have passed StandUp declarations, calling for an end to bullying. Working with the UK Home Office, he has led the charge for the StandUp Charter to end homophobia across sports in his country, including broad adoption to date in soccer, rugby and tennis. 
Sorry, there are no upcoming events