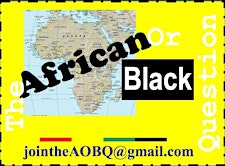 The African Or Black Question (TAOBQ)
The African Or Black Question (TAOBQ) is a UK online and offline campaign for 2011/2012  questioning what we call ourselves as people of African heritage in Britain.
Background and resources can be found at www.TAOBQ.blogspot.com, and you can find us on FaceBook, Twitter and YouTube by searching on TAOBQ. You can email us via: jointheAOBQ@gmail.com.
Our first offline activity is set for Friday Jan. 20 2012, 6-8.30pm @ Westminster City Hall in London's Victoria area, where there will be the screening of The African Or Black Question guerilla documentary and You Are African discussion. It's free and all, irrespective of race, are invited. You can book via our Eventbrite page.