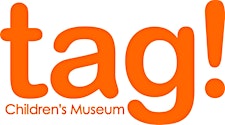 tag! Children's Museum of St. Augustine
tag! Children's Museum creates transformative, play-based opportunities to discover, explore, and innovate.  While we're designing, planning and fundraising for the Museum, we offer playful learning events at our office/studio.  
We are located at 76 Dockside Drive, Suite 105, St. Augustine, FL.  We're in the large white building with a blue roof in the new St. Augustine Shipyard development, off of Arapaho Avenue behind Target.  Please call or email Brittany Call with any questions regarding directions at: 904-647-1757 or bcall@tagmuseum.org.
Learn more about us!  Visit www.tagmuseum.org
Please review our tag! workshop/lab
policies before registering.
Workshop/Lab Policies
Information/Release Forms
All parents/guardians must complete information and release forms for each child attending a workshop or lab at tag! Children's Museum of St. Augustine. These forms are required the first time a child attends a museum event and will be updated annually.
Waivers can be found here:
 or on our website www.tagmuseum.org under the "Events" tab.
Age Policy
Please refer to the age range associated with each workshop/lab, as listed on the Eventbrite registration page. tag! Children's Museum of St. Augustine develops each event to address specific age groups and developmental levels. Age requirements are enforced to promote the safety and enjoyment of all students involved in museum events.
Scholarships
 Please note that scholarships are also available. Contact bcall@tagmuseum.org or call (904)647-1757 for information regarding scholarships.
 Attire
Sometimes play, discovery, and creativity can get messy, so dress your child in old clothing that can be splattered with things like paint, ink and glue. Comfortable, closed toe shoes are also important for safe play.
Cancellation/Refund Policy
tag! Children's Museum of St. Augustine relies on an accurate attendance count to make important arrangements for workshops/labs. If you find you will not be able attend an event, please let us know by either calling the museum (904-647-1757) or sending an email to bcall@tagmuseum.org no later than 3 days prior to the date of the scheduled event.
No refunds will be available for cancellations within 3 days of an event, with the exception of medical or family emergencies.
Due to low attendance, classes that have less than 3 registered participants may be canceled 24 hours before the event, and a refund will be issued.
Drop-off and Unregistered Children
tag! Children's Museum of St. Augustine does not allow unregistered children in workshops or labs as space is very limited - advanced registration is required. Siblings and/or friends of registered students are not allowed in workshops/lab areas during scheduled class times.
Parents or caregivers are encouraged to drop off their children for events, but may watch during their child's workshop from the designated seating area.
To learn more visit www.tagmuseum.org
Sorry, there are no upcoming events