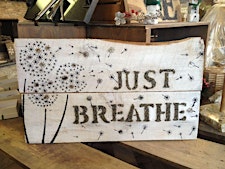 Stone and Pallet™ Schererville at Recycled Granite
At Stone & Pallet™ by Recycled Granite we create Eco Art using reclaimed granite and recycled pallet wood.  We offer fun classes to make popular home decor projects with hundreds of stencils.  You're not boxed into selecting one project.  We offer signs, serving trays, stone flower boxes, vases with granite and a variety of other beautiful creations.  This process diverts waste and creates jobs from our local community.  To meet our team who creates our reclaimed materials please visit www.GreenAbilities.org. 
Need a night out using your creative side?  For only $30 per person, this sustainable unique and easy class offers wine and light snacks.  You're welcome to BYOB.  Class space is limited. Contact sherrie@recycledgranite.com or 219-406-5414 to book a private party.
We also host Girl Scouts, Boy Scouts, private birthdays, etc.  Children can have fun while learning how to help our planet.  
Sorry, there are no upcoming events