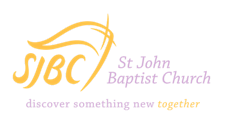 St John Baptist Church
St John Baptist Church is located at 9055 Tamar Drive in Columbia, MD.  Our mission is to be a thriving spiritual center that reaches people for Christ and build believers to be Christ like in Howard County, Maryland and throughout the nations.
Join us on Sundays for one of our 3 services - 8 a.m., 10:15 a.m. and 12 noon.
Rev. Dr. Robert A.F. Turner is the pastor.
St John Baptist Church • Columbia, MD
$5 - $30