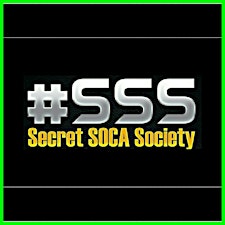 #SSS Secret Soca Society
#SSS was created for the people that love Soca music!
#SSS aka SECRET SOCA SOCIETY IS THE GATHERING OF PEOPLE WITH A GREAT LOVE FOR SOCA MUSIC. #SSS BEGAN WITH A CONVERSATION ON AIR BETWEEN LISTENERS & FREEZE INTERNATIONAL WHILE ON HIS DAILY INTERNET SHOW CALLED THE MID-DAY SHUT DOWN. FREEZE'S LOVE FOR THE GENRE OF SOCA MUSIC PUSHED HIM TO BRING BACK THE GOLDEN DAYS OF FETES IN BROOKLYN N.Y......... WHERE SOCA WAS PLAYED ALL NIGHT LONG!
 SO, ON NOV.14TH 2014 FREEZE INTERNATIONAL & L.O.E.G INC. CAME TOGETHER AND HAD THE FIRST #SSS.
HISTORY WAS MADE.
BE SURE TO LOOK OUT FOR A #SSS FETE IN YOUR TOWN, CITY OR COUNTRY NEAR YOU!
OUR GOAL IS TO GIVE OUR SOCA LOVERS AN AMAZING EXPERIENCE!
TEAM #SSS
#SSS JOUVERT GROUNDS • Miami, FL
$70 - $80