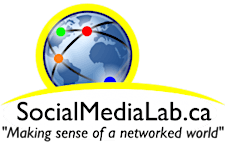 Social Media Lab @TRSMRyersonU
The Social Media Lab is an interdisciplinary research laboratory at the Ted Rogers School of Management at Ryerson University in Toronto, Canada. The lab studies how social media is changing the ways in which people communicate and disseminate information and how these changes impact the social, economic and political structures of modern society.
Our expertise lies in studying online communities and social networks and developing new tools and methods for analyzing and visualizing social media data. The broad aim of the lab's various research initiatives is to provide decision makers with additional knowledge and insights into the behaviors and relationships of online network members, and to understand how these interpersonal connections influence our personal choices and actions.
Sorry, there are no upcoming events