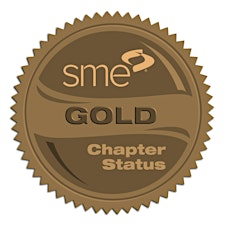 SME 248

SME Manufacturing promotes manufacturing education and advances manufacturing awareness for the Inland Northwest Empire area. 

The Society of Manufacturing Engineers is the world's leading professional society advancing manufacturing knowledge and influencing more than half a million manufacturing practitioners annually. Through its local chapters, technical communities, publications, expositions and professional development resources, SME promotes an increased awareness of manufacturing engineering and keeps manufacturing professionals up to date on leading trends and technologies. Headquartered in Michigan, the Society has members in more than 70 countries and represents manufacturing practitioners across all industries...

SME has membership plans for individuals and corporate groups as well as steeply discounted or free memberships for students and recent grads.
To become an SME member, choose your membership type here: http://www.sme.org/join/

 
CHAPTER CONTACTS 
 
 
Chair – Thorin Brown
thorinoak33@hotmail.com
(509) 230-5161

 
Treasurer – Matthew Michaelis
Eastern Washington University
michaelis@ewu.edu
(509) 359-4268

 
Secretary – Gene Hamacher
TechHelp Idaho
genehamacher@techhelp.org
(208) 449-8053

 


Past Chairs & Members of Executive Committee

 
Vince Belleci
Exotic Metals Forming (Parker Aerospace)
bellev89@gmail.com
‭(253) 389-6165‬


Bryan Woodbury
Exotic Metals Forming (Parker Aerospace)
bryan@commutercars.com
(509) 995-1988

 
Gene Hamacher
TechHelp Idaho
genehamacher@techhelp.org
(208) 449-8053

 
Gabriel Achenbach
Achenbach Designs
gachenbach@comcast.net
(509) 993-3317

 
Dr. Patrick Ferro
Gonzaga University
metlurgst@gmail.com
(509) 313-3547

 
Fred Pollard
University of Idaho
fpollard@uidaho.edu
(509) 235-7320

 
Dr. Martin Weiser
Eastern Washington University
mweiser@ewu.edu
(509) 359-2815

 
Terry Geyer
Eastern Washington University
iqxqsa@hotmail.com
(509) 994-4157

 
Dave Davidson
SME - Deburring/Finishing Tech Group
dryfinish@gmail.com
(509) 230-6821

 
Bob Ladd
Advanced Input (Retired)
rhladd99@gmail.com
(509) 954-4295

 
Dan Tabish
Inland Northwest Metallurgical (Previously)

 
Tony Wisniewski
Hotstart Mfg Co. (Retired)
Idaho State Legislature
precinct63@gmail.com
‭(208) 777-0436‬

 
Jim McCall
Reiff Injection Molding
jim@reiffmolding.com
(509) 340-1020

 
 
http://www.sme248.org
Sorry, there are no upcoming events