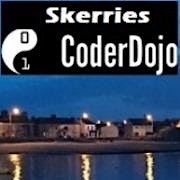 Skerries CoderDojo
BE SURE TO
READ THE EVENT DESCRIPTION

!!!
(underneath the list of tickets)
Skerries CoderDojo
A monthly Coding Club for Skerries kids.
Digital Literacy, the ability to not just use computers but to understand how they work, and to write your own computer programs – this is what coding for kids is all about.
Skerries Community Association is helping to run this free monthly coding club for interested (future) coders age 7 to 17.
Regular Dojos take place on the second Sunday of every month, at least most of the time, and rarely in June, July and August.
Dates for 2018 as confirmed so far: __CHANGES CAN HAPPEN_
January 21st
February 25th
March 25th
April 22nd 
May 20th 
June 24th
Tickets available from 5 p.m. on the Sunday before.
Join our Google Group to keep informed and to be sure to know as soon as the tickets go live here on Eventbrite! While the tickets are free, they need to be pre-booked every month. It is likely that they will all go a number of days before each Dojo…
Coder Dojo
You may have heard about this movement which started in Ireland a few years ago and has spread world-wide. It still is strongest in Ireland, and Sabine, who is driving this initiative, was a mentor with the Dublin Science Gallery CoderDojo for a year. CoderDojo is an open source, volunteer led movement orientated around running free not-for-profit coding clubs (Dojos) for young people. Dojos are set up, run by and led by volunteers. Typically, children bring a laptop and a parent (who'd stay for the duration). They are mentored by people who work in the industry and / or have a coding background. For more information, their website is a good start! 
If you are in any way interested, please be in touch! 
Organiser / "Champion":  Gavin Killen
Contact: coderdojo@skerriesca.com 
Facebook Page: SkerriesCoderDojo
Google Group: SkerriesCoderDojo on Google Groups 
Sorry, there are no upcoming events