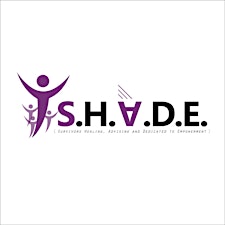 S.H.A.D.E
Survivor Healing, Advising and Dedicated to Empowerment (S.H.A.D.E) Movement is a survivor-led, survivor based consultancy/advocacy anti-human trafficking organization. Within the Abolitionist community, S.H.A.D.E Movement is a unique entity in that it is 100 percent staffed, and run, by survivors of sexual exploitation/human trafficking. We believe that it is necessary to provide survivors of trafficking with a safe life space where their voices, ideas, and skills can be nurtured, increased, and fortified in a compassionate manner. S.H.A.D.E Movement effectively delivers to survivors powerful leadership techniques so that the learned skills can be used to strengthen goals, dreams, and destinies. Survivor Leadership is of paramount importance in regard to creating positive change and empowerment within the anti-trafficking movement, as well as in the world at-large. 
Trafficking is one of the most dire social injustices of our time, and it is one of the fastest growing illicit industries in the world today. The sheer volume of individuals that are brutalized by its tentacles is, unfortunately, deep and massive. S.H.A.D.E Movement seeks to uplift, encourage and inspire survivors of this tragedy by turning endured trauma on its head so that life may be lived in full measure. S.H.A.D.E Movement does this by providing support groups, mentor-ship, skill-building training's, pathways to success, victim/survivor advocacy intervention, economic leadership opportunities, and prevention and social justice workshops.
Any blueprint for a sustainable fight against an injustice resides within those who have had the misfortune of being seared by that injustice. S.H.A.D.E's success lies within its ability to place empowerment within the hands of survivors with the notion of both receiving and delivering much needed healing, training, and resources. This is the very definition of Survivor Leadership. And the very definition of love in full flight.
S.H.A.D.E's Vision:
To empower survivors of sexual exploitation, human trafficking, and domestic violence. Survivor Leadership is paramount to creating positive change and empowerment within and outside the movement.
S.H.A.D.E's Mission: To provide the survivor voice, leadership missing from mainstream efforts in the anti-human trafficking movement; creates social and systemic changes, and is involved in bringing new ideas, protocols and initiatives for sexually exploited and labor trafficked victims; plans, promotes, implements programs, awareness, and services for other survivors; involved in the empowerment of other survivors; provides and assists in the development of economic opportunities to build on survivor's capabilities.  

Contact Information: info@shademovement.org or 510-437-0192  www.shademovement.org
Sorry, there are no upcoming events