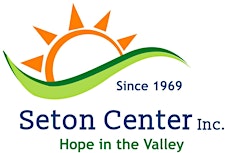 Seton Center, Inc.
Our Mission: Working with our neighbors to build a hopeful future, in the Spirit of Saint Elizabeth Ann Seton, through a focus on the self-sufficiency and well-being of the whole person.
Our Vision: To be a leading northern Frederick County, Maryland resource for emergency support services and skill development, catalyzing systemic change for a more vibrant, healthy community.
Many with whom we partner are working people living at or below the poverty level. Often times those who work hard to be self-sufficient find that even a minor emergency can result in unpaid bills or loss of housing. Sponsored and staffed by the Daughters of Charity of St. Vincent DePaul, local residents and a myriad of volunteers, the Center provides services to all members of the community. Services are provided within the framework of the core values of the Daughters of Charity: reverence, integrity, generosity and unity.
At Seton Center we are committed to serving each visitor with great hospitality and respect. We believe in the true meaning of charity which is love. Whether the need is advocacy, information, material or financial aid, or just a really great bargain, we seek to meet these needs with integrity so that all those seeking charity find an experience of love.
Seton Center's programs:
Address basic human needs
Stem homelessness
Build strong, healthy families
Provide referral services
Maintain the health of seniors
Provide comfort to the homebound
Support the transition out of poverty
In continuous operation as a social service organization in our local communities since 1969, Seton Center programs and services fill the unmet needs that county and local governments, schools and other non-profits do not provide.
Sorry, there are no upcoming events