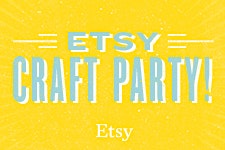 Sara Negri
You're invited to  Etsy Craft Party 2013: Craft for Community.

Etsy Craft Party is a global celebration of meeting and making. Share your passion for craft, art, and design with your community. You can organize a Craft Party or join one in your area. Look through our event list to see if there's a party near you, and check your local Craft Party for details!
Scope out this Etsy Craft Party page for the digital party kit, photos and more.
Sorry, there are no upcoming events