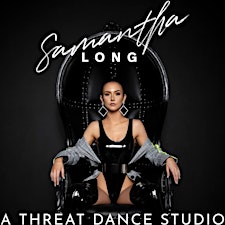 Samantha Long A THREAT Dance Class
Samantha Long, professional dancer, choreogapher, creative director and Founder / CEO of A THREAT welcomes you to join her movement of empowerment through dance at the all new A THREAT Studio!
You may have seen one of Samantha's many viral dance class videos and now is your shot to be a part of it all; at her very own space created specifically for dance trained by Samantha Long.
Famous for her trademark heels choreography, Samantha has impacted tens of millions worldwide through features in motion picture, television, music projects and mega-brand partnerships. And now, Samantha is launching her own artist development platform, studio, clothing line and more - A THREAT. Welcome to the family!
Being A THREAT is the acknowledgement of what you are to what's holding you back.
This movement represents the worth, ability, power and art in overcoming.
Class Videos:
https://www.youtube.com/watch?v=b0Fu18BF-hk
https://www.youtube.com/watch?v=EsrSctT9tkI
Press:
https://lumee.com/blogs/lumee-diaries/wcw-samantha-long
https://jamn957.iheart.com/content/new-post-malone-wow-dance-samantha-long/
https://sawsemag.com/2018/12/04/dance-video-samantha-long-twerk/
Co-Choreographed:
https://www.youtube.com/watch?v=eMymSXUN9nQ
Sorry, there are no upcoming events