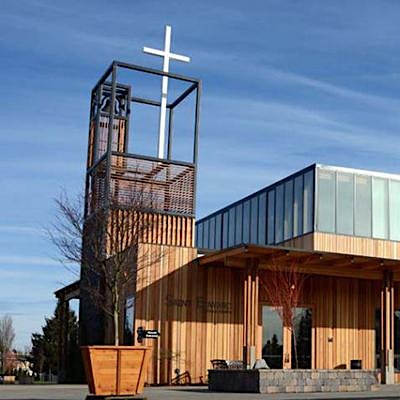 Saint Edward Catholic Church
Two-Week Statewide Reduced Capacity at Mass
---------------------------------------------------------
From November 18 to December 2, Oregon will be in a statewide Two-Week Freeze to stop the rapid spread of COVID-19 across Oregon. These risk reduction measures are critical in limiting the spread of COVID-19, reducing risk in communities more vulnerable to serious illness and death, and helping conserve hospital capacity so that all Oregonians can continue to have access to quality care. This includes limiting faith-based organizations to a maximum of 25 people per-building indoors. We pray that this will be a temporary situation and hope to return to our previous non-reservation Mass system as soon as we are allowed to. We will keep the parish updated on a weekly basis.
***
We can have approximately 25 people in the church and 25 in the Vestibule, as well as additional seating in the auditorium (old church) and parish hall, where we will have the Masses live streamed with Communion distributed. Social distancing between households will need to be maintained and face coverings/masks will be required. We will have a limited number of masks available for people who forget to bring one or do not have one, but we ask that you bring your own if possible.
***
Thank you for your charity and understanding this extraordinarily challenging situation. We will continue to follow the safety protocols from the Archdiocese and State of Oregon. While we are deeply grateful to be able to offer Mass in person, we also recognize the concerns of attending in person. Anyone who is sick in any way or who feels vulnerable at this time should not attend Mass but participate by watching Mass at home. The Archbishop's dispensation from Mass is still in effect and we will continue to live stream all Masses until further notice.
***
God bless you! Fr Gary
---------------------------------------------------------
Tickets available at 3:00 PM on Sunday, November 14th!
Saint Edward Catholic Church • Keizer, OR