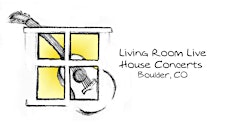 Russ & Diane Hullet
Living Room Live House Concerts hosts nationally recognized singer-songwriters in Boulder, Colorado.  We hope you join us and our friends for an intimate evening of music. 
 FOR UPCOMING EVENTS PLEASE SCROLL TO THE BOTTOM
 -----------------
Feedback from previous performers:
"It was the best house concert experience I've ever had!"
- John Gorka
"Living Room Live is as well run, well promoted, and well-attended a house concert as could possibly be imagined.  Add to that good sound, lights, and staging in a beautiful home in Boulder, CO and you have what is definitely one of the best house concert venues in the country!" 
- Pierce Pettis
"Russ and Diane of Living Room Live in Boulder are changing the paradigm of 'house concerts' in America.  Seriously.  All of the potential awkwardness of performing in a living room is eliminated by their attention to detail and professionalism…. They are consummate hosts, cultivating an enthusiastic following of music lovers with their carefully curated lineup of performers."
- Jay Nash of The Contenders
"The Hullets have built the perfect frame for the art of songwriters and storytellers. Their Living Room Live House Concerts provide over-the-top hospitality with the space to intimately share and encounter music. I finished the show there feeling very honored by the generous audience and by Russ and Diane's hard work. I wish every show was like this one. I can't wait to come back."
– Andy Gullahorn
"I loved every minute of it. The house, the vibe, the family. I can't wait to do this again. You've really created a magical community, and step by step it will change the GAME! Thank you forever Russ and Diane, Jonatha"
- Jonatha Brooke
This is an A list house concert. The Best!
I don't usually send thank you emails to house concert hosts but I'm making an exception because that was such a great house concert. You folks do it well. Thank you, Cliff
- Cliff Eberhardt
"One of the best house concerts i've ever played. Lovely hosts, lovely house, great sound and appreciative audience. Great attendance. A warm and CD-buying crowd. What more could anyone want! Just a warm atmosphere all around"
- Antje Duvekot
"My experience performing at the Hullet's house concert (aka Living Room Live) was truly a magical one…."
- Peter Mayer
"…. Russ should write a how-to book about putting on house concerts. I'd buy a copy in a heartbeat!"
- Steve Cohen, Agent to David Wilcox
"You say you're wary of playing house concerts? That's wise, but listen: Russ and Diane have a house concert that I highly recommend. Their home is fantastic for playing a concert. A big open room with a great sound system. Comfortable for 80 people. The room you stay in is out of the way, luxurious and quiet. The folks they invite are a lovely audience and they listen intently. And when you throw a pot luck supper with these folk, you get a fantastic dinner too – It's a good gig."
- David Wilcox
"…. A first-rate setting for an intimate concert experience, and a friendly crowd."
- Peter Mulvey
"From an agent's perspective, working with Russ could not have been easier. He clearly knows what he's doing here and it's not just the devil that's in the details, but the results he gets time after time. We were fortunate enough to book Antje Duvekot with him and it was one of the most successful house concerts she's had the pleasure of performing - not the mention one of the most successful house concerts I've ever booked."
- Craig Grossman, Founder and Agent with Green Room Music Source 
"...AND I mean every single word."
"I always like it when one of my artists raves about a venue after they do a show there. That was the case with John Gorka. He told me it was one of the best experiences he has ever had doing a house concert which, you know, he does very few of for the reason that most are not as professional and concerned with the details as you are. As a manager I really appreciate that..as does John.
Hope to work with you again, and please use me as a referral."
- David Tamulevich, Tamulevich Artist Management
Sorry, there are no upcoming events