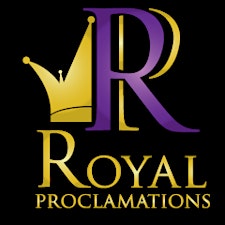 Royal Proclamations
Royal Proclamations is a Personal, Professional and Spiritual Training and Development ministry based in Hartford, Connecticut, USA.
Since 2006, Royal Proclamations has been producing revolutionary and life-changing seminars to equip business professionals, students and others with the knowledge, power, motivation and skills to pursue their passions, reach thier dreams and realize their fullest potential.
Royal Proclamations programs present specific tools to dramatically improve individuals, corporations and institutions. Participants call these presentations: "inspirational, informational, and transformational!".
Royal Proclamations was founded, and is headed by Total Success Coach, Princess Bola Adelani, a British trained corporate lawyer, an ordained pastor and a kingdom destiny coach. More information is available at: www.RoyalProclamations.com
Sorry, there are no upcoming events