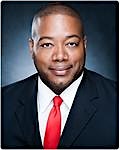 Rodney Kornegay
Rodney Kornegay is originally from Brockton, Massachusetts. He has been a Financial Service Professional for the past 8 years.
Rodney
graduated from the
College of St.Joseph where he

earned a Bachelor's of Management and Bachelor's of Finance
.
Rodney is currently an Executive Council Member and he
focuses on 
funding for qualified and non-qualified plans, wealth accumulation, college funding, estate preservation, disability income insurance, employee benefits and tax advantaged strategies.
Rodney still resides in Brockton and loves seafood.
Sorry, there are no upcoming events