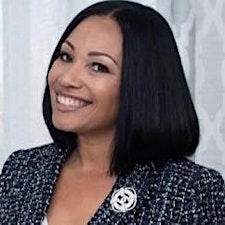 Ria Cotton, Real Estate Broker, Owner
RIA COTTON
W I F E , M O T H E R , E N T R E P R E N E U R

THE FABRIC OF REAL ESTATE
Ria C. Cotton is the broker/owner of Cotton Realty, a community centered virtual brokerage
focusing on brand marketing and real estate sales. She is a member of the National Association
of Real Estate Brokers, a repeat presenter at Richmond Neighborhood Housing Services' home
buying workshops, and is the incoming President for Women In Real Estate Development Inc.
She recently was the chair of the Realtist Week committee in Oakland. Realtist Week,
established by the National Association of Real Estate Brokers (NAREB) in the early 1970s
spotlights the important role Black home ownership plays in strengthening and stabilizing
communities with a particular focus on the revitalization and desirability of the nation's urban
neighborhoods.

This community focused business woman is always looking to acquire new clients as her
knowledge of the real estate market, excellent communication skills and innate understanding
of the needs of both buyers and sellers enable her to develop valued relationships for a lifetime.
Ethical business standards and discretion are assets to those with whom she does business. Her
goals are to keep clients informed, resolve concerns, and pay attention to the details.
Her real estate career started in 2004 at a Savings & Loan company, with over 10 years
experience in the mortgage industry.

Bay Area Living
Ria is a Bay Area native being raised in Oakland's rolling 20's and South Berkeley. She is proud
of her accomplishments which include 3 children, and being a supportive wife to her husband
who is also active with youth in the Oakland/ Bay Area community. She enjoys, as a hobby,
being the owner and operator of BarTendas, Mobile Mixology. A Bay Area mobile bartending
service that caters to corporate events and local fundraisers.

Contact Her Today
www.RiaCotton.com
Email: info@riacotton.com
Cell: 510.385.0409