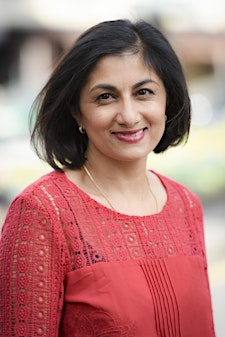 Rani Bhatia-Durand
 My experience and what drives me?
Often described as a "midnight child" where east meets west, I am a passionate leadership facilitator, executive coach, MBSR teacher and speaker with 13 years of mindfulness and 15 years of global executive experience. I have always been driven to help others and am fascinated by the questions "how can we be less anxious and more joyful" and "why do we do what we do?" and have spent the past 15 years observing and researching human behaviour. The result of which is my seminal work  - Relational Intelligence.
If you want to know more about me you can check out my LinkedIN profile on https://fr.linkedin.com/in/ranibhatiadurand 
Words that best describe me
Passionate, engaged, strategic, pragmatic, results oriented, multi-cultural (I have 4 nationalities!) open-minded, fun loving and caring. 
My journey, purpose and passion
To learn a little more each day what it means to lead and live with greater sense of joy and abundance, humanity and authenticity.  To then share through my work and presence convey what I have learned from my successes and struggles so others can also experience more purpose, clarity, focus and fulfilment.
My education and qualifications
MBSR Teacher Certification Levels 1 & 2 E-learning Online training Design and Delivery INSEAD Diploma in Clinical Organisational Psychology
Coaching for Organisational Consultants – Ashridge Business School
CCC – Consulting and Coaching for Change INSEAD
MBA INSEAD, Fontainebleau, France
The Dominican Hotel ( Central Brussels) • Brussels
€699 - €799