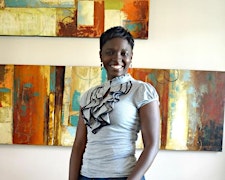 Rachel Gerald
Rachel Gerald is a financial consultant with Abundant Life Community Outreach. She has a passion to help educate, motivate, equip, empower, and encourage people on their journey to becoming a better money manager.
She earned her baccalaureate degree in finance from the University of North Carolina, Wilmington in 2013 while she was still on active duty in the United States Marine Corps.
She had a desire to pay off all of her consumer debt before she retired from the military and she did just that.  She paid off $179,625 in March 2015 in five years.  She is now diligently working hard to accomplish other financial goals and building generational wealth.
Rachel has been featured in Time Money Magazine and in other articles and podcasts with Debt Free Divas, Credit.Com, Principles of Increase, His&Her Money, and Trea's Two Cents.
Rachel retired from the military as a Master Sergeant January 2017. She is a frequent speaker at municipal financial functions with the city of Jacksonville, NC and wherever she is called upon to share her message of financial change. Rachel currently resides in Jacksonville, North Carolina.