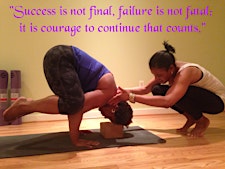 Rachel Eckels Yoga
 A motivated yoga instructor with advance training in vinyasa yoga and specialized in Baptiste principles, Rachel Eckels enjoys inspiring others in improving their commitment to long-term mind, body and physical wellness through their yoga practice.  
 Rachel's yoga practice began in 2006 at the YMCA in New York City and she knew that it would not be her last class.  She fell in love with how it made her feel after yoga; stronger, flexible, confident and compassionate toward others and self.  After practicing for several years, she decided in 2014 to complete teacher training at Embrace Studio in Washington, DC,.  
 In addition, Rachel Eckels has over 15 years of experience as a project coordinator, working in major industries such as banking, education and local government.
Sorry, there are no upcoming events