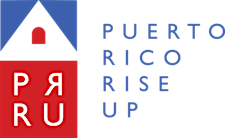 Puerto Rico Rise Up
PRRU is a national humanitarian disaster relief organization, uplifting the welfare of underserved communities in Puerto Rico by: improving access to health care, providing quality education, advocating for change where needed to restore and secure a viable future for generations to come.
We believe the path to decrease inequality and enhance human engagement is to expand the scope of opportunities before and after disasters. This may sound simple, or even simplistic, but it is just the tip of an exceedingly complex approach.
PRRU employees a holistic approach to promote a sustainable future. We believe we can aid and provide the necessary tools to empower Puerto Ricans through boosting the following main areas:
• Education
• Health and well-being
• Economy and Community Growth
• Resilience
• Disaster Relief and Preparedness

Our well-rounded approach fulfills the communities biophysical, environmental and social needs to foster evenhanded opportunities, economic growth, and human prosperity. Thus, reinforcing these values from one generation to the next, will move the Puerto Rican community towards a successful future. We emphasize protecting the community to meet their needs, rather than satisfying peoples preferences.
Sorry, there are no upcoming events