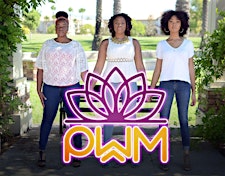 POSITIVE WOMEN MEET UP, LLC
SCROLL DOWN AND CLICK ON OUR MOST RECENT EVENT TO RESERVE YOUR SEAT !
Positive Women Meet Up, LLC, a black owned, woman owned professional development company that specializes in providing a power networking platform for women to push their brand or business to the forefront, while building new business partnerships and friendships. We host our own professional development workshops and trainings for the community, provide individual consultations and project management. We also host professional development trainings and workshops for other organizations, companies and institutions on various topics. 

 
 PWM LOGO--The acronym PWM stands for POSITIVE WOMEN MEET UP.
An uplifting movement for women. The three letters stand bold and tall below a beautiful blooming flower.
The arrow under the W represents women lifting each other up in unity, strength and power. The bar holding the beautiful flower represents the bar we are raising for our future daughters by supporting and encouraging each other now. The flower can be any beautiful blooming flower you prefer. We are all different and we are all beautiful. We have been told this beautiful flower resembles a lotus flower. A lotus flower blooms from muddy waters. Its stem is flexible, but does not break. As women, we endure many trials and tribulations, but with the help of each other, we can bloom through the mud to reach our goals. Just as the lotus flower emerges from the mud, up towards the sun, completely unstained and beautiful, so will we.
Past events include--
Beauty & Brains Installment of PWM :
Featuring China K. Love (previously Upshaw), Celebrity Hair Stylist and Reality Show Personality of WeTVs LA Hair.
China K. Love hosted the PWM installment-Beauty &Brains. This is an intimate event, where she shares her personal triumps and tribulations on being a young, black woman in the celebrity hair industry. She speaks on various topics such as how she is able to remain resilient and relevant for 18 years and counting. This installment can be faciliated on location, upon request and booking.
Dear Me- A Letter to My Younger Self.
Workshop hosts Quannita Tate, hosted the workshop Self Limiting Beliefs, while Batani-Khalfani, hosted Divine Women Inspire. Mrs. Tate encoouraged women to break down their barriers, and limits they have put onto themselves, DIG DEEP, and push out on top. Ms. Batani-Khalfani encouraged women to be in tune with themselves, and no that women are the creators of life
Sponsors:PWM accepts product sponsors, as well as monetary sponsorship. Product sponsors should be prepared to sponsor the event with a minimum of 50 full sized products. Product literarture is encouraged. 
Past Sponsors include: Kim Kimble Hair Products, PNK Digger Cosmetics, J. Autrey Cosemtics, Oyin Handmade, DRY Sparkling, Nadia Harris of Nadia Harris Art and Design, FittedCrown Collection, Taliah Waajid, CURLS, and the BagLady41.

Bring your business cards and let's network! We are always seeking young, positive, professionals in the Inland Empire/Los Angeles area who are knowledgeable in their area of expertise, and are looking to network with positive women. 
Sorry, there are no upcoming events