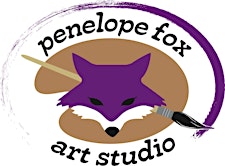 Penelope Fox Art Studio
Welcome
 At Penelope Fox Art Studio we believe that art is for everyone. So even if you've never held a paintbrush or drawing pencil, we encourage you to dive in to the artistic process - and we provide classes to help you do just that. People young and old enjoy our many drawing and painting classes, all focus on the basics such as proportion and shading.
 Our teachers are professional artists and art educators who are invested in providing quality classes that produce noticeable results. If you're a working artist, our classes can help you sharpen your skills and explore more advanced techniques. And whether you want the camaraderie of a classroom environment or prefer one-on-one instruction, we can provide what you're looking for.
Please visit our website at PenelopeFoxArtStudio.com and our Facebook page at Facebook.com/PenelopeFoxArtStudio for more information and photos of classes and events. 
Thank you!