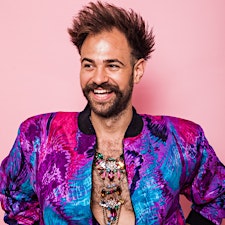 Patrick Joseph Boston
Patrick Joseph Boston (Trish) began their health and wellness journey at the ripe age of 19 when they took a giant step towards authentic living by "coming out" to friends and family. Inspired by their summer biology class (of all things), they adopted a healthier diet, moved that body five times a week and eventually joined a fitness group offered by their university. In six month's time, Patrick shed 100 pounds, but still held on to two decade
s of baggage.

Moving to Berlin, Germany in 2016 and finding Forrest Yoga, Patrick started a transformational, deep-healing process. With more confidence, zest and a healthier head-space, they finally ripped off the band-aid and enrolled in 200-hour Baptiste yoga teacher training.

With a new set of tools on their belt, Patrick is SUPER silly excited to assist others in their own physical, mental and spiritual healing as they deepen their own practice and continue this life-long education.

Queer Yoga is yoga for everybody, meaning every body. 
ALL humans of ALL shapes, sizes, colors, identities and abilities are welcome to connect with and celebrate their bodies!
Sorry, there are no upcoming events