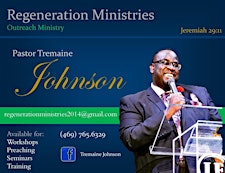 Pastor Tremaine M. Johnson
Trust in the Lord with all of thine heart and lean not to your own understanding, but in all your ways acknowledge him and he will direct thy path."
(Proverbs 3:5,6)
Pastor Tremaine Michael Johnson was born and educated in New Orleans, La. Pastor Johnson started at age 16 in the ministry at Beautiful Zion Baptist Church where he served as his Pastor's Armor bearer, Sunday School, Vacation Bible School, and Bible Institute teacher.
He has preached and taught in various Bible Institutes, Revivals, Youth Conferences and workshops.
Pastor Johnson has been faithful in his calling to Youth Ministry by serving as:
o   Children & Youth Director at Greater Corinth Baptist Church; and
o   Youth Pastor at God's Way Christian Fellowship (both San Antonio, TX).
o   Children's Pastor at Loving Fellowship Baptist Church, De Soto, TX
He has organized various community service initiatives such as:
o   Volunteering at the San Antonio Food Bank,
o   Orchestrating "Go Pink" Sunday during Breast Cancer Awareness Month;
o   Organizing "Stuff the Bus" school supplies drive
o   The Juvenile Diabetes Research Foundation "Penny Drive".
o   Served as Co-chair for Education on the San Antonio MLK Commission.
o   Autism Awareness Benefit Concert and Silent Auction
o   Teddy Bear Drive for Children's Hospital
Pastor Johnson has served in many capacities in the Body of Christ such as:
o   Featured teacher in the Guadalupe Baptist Association Youth Congress
o   Mt. Zion 4th SA TX, True Love Waits Conference;
o   Conference organizer and presenter
o   Youth Ministry Consultant
o   Revivalist
o   Community Servant
He is also the founder of Regeneration Ministries.  A ministry designed to assist Youth Ministries by providing training, consulting and guidance in maintaining a relevant and real Youth Ministry.
He is happily married to and shares in ministry alongside his wife, Minister Shirley J. Johnson.
Sorry, there are no upcoming events