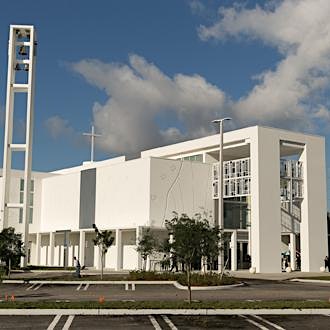 Our Lady of Guadalupe Catholic Church
Seats Reservation for Holy Mass Attendance
From Saturday April 11th, 2021 we will NOT issue tickets to attend Mass. You will be able to participate in person in either the Temple or Parish Hall. We will welcome you on a first come first serve basis. The maximum amount of people we will be able to accommodate is 500 (300 in the Temple, 200 in the Parish Hall). If there are more than 500 people attending a Mass, the overflow will be accommodated in the Plaza where you will be able to listen to the Holy Mass by the speakers.
Please arrive early!
WE WILL BROADCAST THE MASSES VIA YOUTUBE GUADALUPE TV MASSES ONLINE.
Reserva de asientos para la asistencia a la Santa Misa
A partir del Domingo 11 de Abril del 2021 NO estaremos dando mas ticketes para asistir a la Santa Misa. Ud. podrá participar presencialmente en el Templo o en el Salón Parroquial. Le daremos la bienvenida por orden de llegada. La cantidad máxima de personas que podremos acomodar es de 500 (300 en el Templo, 200 en el Salón Parroquial). Si tenemos más de 500 personas asistiendo a una Misa, se los acomodara en la Plaza donde podran escuchar la Santa Misa por los altos parlantes.
¡Llegue temprano!
EMITIREMOS LAS SANTAS MISAS A TRAVÉS DE YOUTUBE GUADALUPE TV MISSES ONLINE.
Miguel Angel Ruiz
Sorry, there are no upcoming events