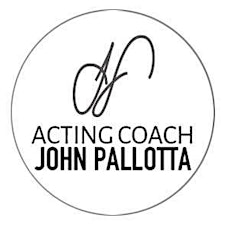 On Going Acting Classes for Film &Television with Master Acting Coach John Pallotta
On Going Acting Classes for Film &Television with Master Acting Coach John Pallotta

On-Camera Scene Study: Exploring Script, Experience, and Imagination
For actors with theatre and/or on-camera experience, this class explores all aspects of on-camera acting, from the first audition through the final set-up. One week will be dedicated to the rehearsal process (including what to do if you get no rehearsal time); all other class meetings provide on-camera work with playback. The class is always limited to 12-15 students so that everyone gets to work each week. As an beginner - intermediate level class, an interview with the instructor is required for each applicant to register.
What The Actors Will Learn From John Pallotta
Take on a character in a split second with fullness.
Create believable emotion and be in the moment.
Make choices and feel confident in those choices.
Not freeze at auditions an quickly correct mistakes.
Book more work again and again.
Remember lines fast without memorizing.
Quickly change directions on a dime.
Prepare for an audition fast and feel good about it.
Add rich layers to your roles and performances.
Break your casting mold.
In 2014/2015/16 John Pallotta was nominated 18 times as the FAVORITE Acting Coach on the east coast according to Backstage Magazine Readers. Just last month Backstage named John Pallotta one of the best on camera teachers in the nation for those actors looking to jump start their career. And according to ActorRated.com he was rated "NUMBER ONE" Acting Coach in the nation 4 years in a row. Visit John at www.johnpallottastudio.com
New to the craft or seasoned professional, John Pallotta will show you how to turn your talent into bookable skills and start working today!
Visit us online at www.johnpallottastudio.com or www.phillyactingclasses.com
or call (646)619-7777
Sorry, there are no upcoming events