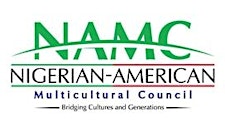 Nigerian-American Multicultural Council
NAMC is a Houston based non-profit, 501 (c) (3) organization that seeks to build a vibrant Nigerian community in Houston and serve as a bridge between the Nigerian community and the greater Houston community.
NAMC's mission is to build a unified, vibrant, and empowered community of Nigerians and Americans that: promotes excellence in career and business; expands horizons through education, mentorship, and civic engagement; and shares the richness of Nigerian and African arts and culture.
Learn more about our programs at www.namchouston.org or contact us at info@namchouston.org.
Sorry, there are no upcoming events