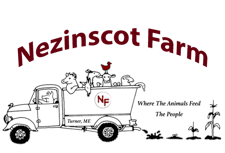 Nezinscot Farm Store
Nezinscot Farm began as the first Organic Dairy in the state of Maine. Through the desire to diversify and the passion for good food and sustainability the owners, Gregg & Gloria Varney have expanded Nezinscot Farm to encompass a Gourmet Food Shop, a Cafe & Bakery, a Fromagerie, a Charcuterie, and a Yarn & Fiber Studio . The farm is located in Turner, Maine on a 250 acre Organic Diversified Dairy Farm. Surrounded by gardens, rolling fields, farm animals, and the Nezinscot River, Nezinscot Farm is a unique must see Maine destination. 

 We have something for everyone, so make us your weekend  retreat and enjoy a weekend to remember.
Nezinscot Farm Store • Turner, ME
$185 - $1,500