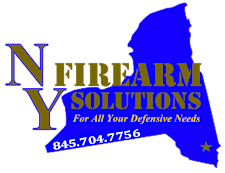 New York Firearm Solutions [NY FireSol]
New York Firearm Solutions [NY FireSol] provides professional Firearms Instruction in a variety of disciplines from Basic Safety Dicipline (B.S.D.), Firearms Handling Skills (F.H.S.), Personal Defense Firearms Training (P.D.F.T.) & Defensive Pistol Skills (D.P.S.).
Our partnership with local, county and state Law Enforcement ensures that we offer the Professional Instruction for any level of instruction for law abiding citizens.
Never owned a firearm before? Interested in having a firearm for self defense? Target Competition? Defensive Pistol Training? We offer a series of both National Rifle Association (NRA) approved courses and also proprietary courses in these areas.
We can help you choose the firearm appropriate for your needs or get you started off right with the firearm you already possess.
SAFETY is our main objective at all levels of dicipined training.
Give us a call today at 845.704.7756. You will be glad you did!