New York City WILD!
URBAN NATURE WALKS
 See More of New York! with Keith Michael, urban naturalist
SCROLL DOWN FOR THE CURRENT SCHEDULE OF ADVENTURES
---
NYC Wild! Walks are a playground
for Birders, Naturalists, and Photographers.
Visit significant green spaces and historic destinations in NYC to reconnect with the rhythms and sheer wonders of the natural world in our urban midst as a potent antidote to the stress and frenzy of To Do Lists, hand-held devices, and alternate side of the street parking.
* * * * *
KEITH MICHAEL is a self-styled urban naturalist, avid birder, photographer, and a dedicated explorer of New York City's five boroughs. Watching birds drives his focus, but the breadth of NYC history, and the wealth of vistas, trees, wildflowers, grasses, mushrooms, butterflies, dragonflies, as well as scaled, slithery and furred fauna that can be observed within the city is truly remarkable. Mr. Michael has published four books of writing and photographs: Let's Go Out!: A Birder's Year in the West Village (2015); Take Me to the River (2014); Once Around the Block (2013), and 1000 Days: World Trade Center Rising (2013);leads New York City WILD! nature walking tours, co-leads Hudson River Park WILD! walks, and is a monthly contributor to WestView News: The Voice of the West Village.
When not adventuring in the city and taking photographs, Mr. Michael is a ballet choreographer, having created The Alice-in-Wonderland Follies, Mother GOOSE! and The Nutcracker for New York Theatre Ballet, and is the Dance Production Coordinator at The Juilliard School. For more information about walks, books or photographs visit www.keithmichaelnyc.com
Write to newyorkcitywild@gmail.com for any additional information
or to arrange private, special group walks or other events.
Follow my photography on Instagram @newyorkcitywild
---
---

What People Are Saying



Happy Intrepid New York City WILDERS! at High Rock Park, Staten Island, NY


Take a trip to a secret Brooklyn beach to watch prehistoric horseshoe crab mating rituals 
..."Plumb Beach, part of the Gateway National Recreation Area, is known as a prime breeding area for horseshoe crabs during May and June. As I quickly discovered, anyone in search of the crabs along the quiet strip of wilderness will not have to search very hard. My group, led by Keith Michael of New York City Wild!, spotted our first crab within minutes. Michael picked up the crab to show us the underside of the shell, explaining that horseshoe crabs are more similar to spiders than to crabs."...
https://wjla.com/news/offbeat/take-a-trip-to-a-secret-brooklyn-beach-to-watch-prehistoric-horseshoe-crab-mating-rituals
Emily Faber, Sinclair Broadcasting Group, June 2019



The 8 best wildlife activities in and around NYC
"Back in the city, urban naturalist Keith Michael leads wildlife tours through green spaces in all five boroughs, including Jamaica Bay in Queens, Great Kills Park and Mount Loretto State Forest in Staten Island, Fort Tryon Park and Inwood Hill in Upper Manhattan, and all over Central Park. Michael also offers quick trips to see wildlife in nearby spots like Bayonne, New Jersey, Jersey City, and Yonkers, should the local birds and possums not do it for you. The tours run $10-$50 per person, with wildlife and flora on tap including horseshoe crabs, butterflies, local birds, lethal mushrooms, and all sorts of other urban natural wonders, plus Michael will dig into each area's cultural history in addition to its natural one, making each walk a real educational deep dive."
Rebecca Fishbein, 6sqft, August 2018
"To go on an adventure with Keith Michael and friends is to discover a wild and magical world hidden in plain sight in the midst of NYC. I've hiked with him in all 5 boroughs, watching shorebirds and song birds and swans (dozens of them) in Jamaica Bay, wild turkeys in the Bronx scratching for food under ancient trees near a stunning memorial to the Titanic, horseshoe crabs in Brooklyn coming ashore to bury their eggs under the light of the full moon, a Staten Island nature preserve with bird filled forests, wetlands and shoreline, even the site of the tree in northern Manhattan beneath which  Peter Minuit is said to have purchased this island from the Lenape people. And each trip was meticulously researched and carefully planned by Keith, who is incredibly knowledgeable about birds and has an unerring knack for finding them.  Highly recommended!"     
Lisa Kleger,

Systems Consultant
"

Keith's walks showcase the details and edges of NYC where wildlife and beauty are abundant.  His strong trip organization makes each walk a breeze for participants.  You simply show up with interest and Keith leads you through one of NYC's many wild spaces, highlighting the wildlife and stories that only a patient and trained eye can see.  These walks are also flocked to by wonderful people who are a bonus to the relaxing and enriching walk.
Carrie Roble, Hudson River Park, Director of Environment and Education
"Every single time I joined Keith's nature walks, I experienced a never ever to forget moment of beauty. Keith is an experienced bird watcher and has pointed out rare species, i would have missed without him. Highly recommendable to experience in the area of NYC." 
Addy Onstwedder,

General Manager, The Netherland Club of New York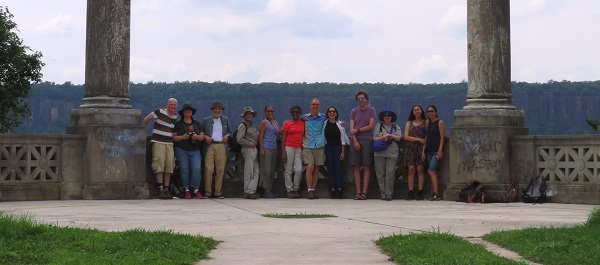 Basking in the View of the New Jersey Palisades from Untermyer Gardens, Yonkers
"Wise and witty, Keith Michael is a keen observer of people, places, and above all, things. With intrepid spirit and deep generosity, his walks explore the unexpected pockets of wildlife throughout the five boroughs. A self-taught naturalist with a swashbuckler's sense of adventure, he reveals how these surprising little spots thrive in their urban surroundings. Keith's unbridled fascination with everything around him and the great pleasure he takes in sharing their secrets make him a fantastic guide to the world few of us ever even notice, let alone get to experience."  
Valerie S, V

eteran Walker
"Keith's walks take one to parts of New York that one has been meaning to go...fun and informative...so go now and explore the hidden sights of New York."    
Sarath Sochannam, Urban Explorer
"Keith Michael and his knowledge of the natural world is extraordinary.  I have gone on several trips with NYC WILD! and have been so impressed with his knowledge of everything: birds, earth, trees, history of where we are and what was before. I am always disappointed when I can't go on an outing."
Nancy Shamban, NYC Birder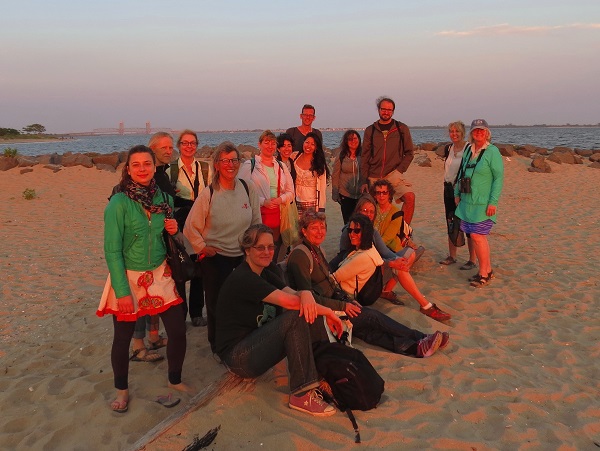 A Magical Summer Solstice Horseshoe Crab Walk at Plumb Beach, Brooklyn
---
CLICK on these links for full page-by-page previews of
Keith Michael's photographic books
AND
for the opportunity to buy them - they make great gifts for that someone special!