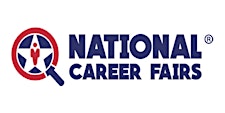 National Career Fairs
National Career Fairs
http://www.nationalcareerfairs.com
National Career Fairs has been bringing the best employers together with the best candidates for the job for over 18 years.  Our mission is straight to the point we want to help employers find the best candidates and candidates find the best job for them.
Our career fairs are the best in the nation and we have helped more people get hired through our events than any other company out there.  If you're looking for a job or a career, you have come to the right place!
Get started on your career search by submitting your resume to: https://www.findyournewjob.com/  Signup and then Select Job seeker.