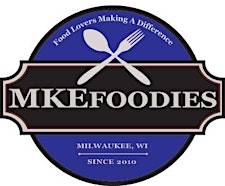 MKEfoodies
MKEfoodies is an events-marketing organization which plans and executes food related events and experiences showcasing the best of the best in and around Milwaukee, WI.  
We are ordinary Milwaukeeans who enjoy food, drink, and socializing. More importantly, it's a collective who believes that community is vital, and that giving back makes a big difference.
Some are area food bloggers, food enthusiasts, food writers, and food geeks. Some just enjoy eating. MKEfoodies come from all walks of life, but are joined by a common love for food and drink. 

We aim to support local, artisan food businesses, independent restaurants, and a thriving food culture in the city of Milwaukee.  
We are a for-profit limited liability company. However, through our community partnership program, we are able to give back to the community. In 2013, we raised over $2,000 for area organizations through our monthly events, as well as just over $8,000 for Cookies for Kids cancer during our December bake sale (includes matching funds).
In short, we are a socially conscious food-centric organization aiming to bring the "foodie" community together and make a difference through experiential, affordable events geared around food, drink and education.
Sorry, there are no upcoming events