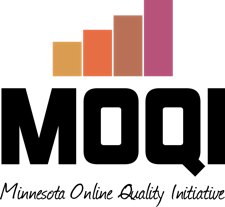 Minnesota Online Quality Initiative
Promoting quality course design through professional development and statewide collaboration of the colleges and universities in the Minnesota State System.
---
Looking for Quality Matters workshops and courses that are sponsored by MOQI?  
Information and registration information for the Applying the Quality Matters Rubric workshop, the Improving Your Online Course workshop, the Peer Reviewer course or the Master Reviewer course can be found here.
Sorry, there are no upcoming events