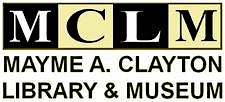 Mayme A. Clayton Library and Museum

For Email Marketing you can trust.
The Mayme A. Clayton Library & Museum (MCLM) is a dynamic cultural institution located in Culver City, California. MCLM is home to the Mayme Agnew Clayton Collection of African American History and Culture. The collection contains over two million rare books, films, documents, photographs, and works of art related to the history and culture of African Americans in the United States, with a special focus on Southern California and the American West. The collection is one of the nation's most important collections chronicling the history and culture of Americans of African descent.
MCLM hosts film screenings, lectures, art and theatrical activities and meetings on a regular basis. Sign up below to receive notification of upcoming events.
Sorry, there are no upcoming events