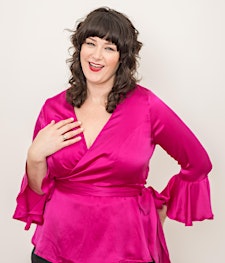 Mary Alice Duff of Well Sewn Style and Alice Alexander
Mary Alice Duff is sewing educator, blogger and fashion designer and recently launched the brand Alice Alexander, a size-inclusive, ethically-made women's apparel company. Mary Alice blogs at WellSewnStyle.com
Growing up in the Philadelphia area, Mary Alice's love of fashion and all things sewing started at an early age when her grandmother introduced her to sewing and her first dress up box. Throughout high school Mary Alice continued to pursue her creative endeavors while growing increasingly aware of social injustices in both her backyard and around the world, spurring her interest in psychology and social work. 
After high school Mary Alice attended Marist College on a full scholarship to play Division 1 basketball then continued her academic journey at Bryn Mawr College earning two masters degrees in Social Work and Law and Social Policy. Graduating in 2009 into the worst economy since the great depression, Mary Alice ventured abroad with nothing but a suitcase and modest savings to travel southern Spain and teach English as a second language. In Spain, Mary Alice was completely enraptured with the style of dressing, bright colors and elegance that local women exuded.

Upon returning to the Philadelphia area Mary Alice worked at a number of prominent nonprofit institutions honing her expertise in poverty reduction strategies. Working her way up the nonprofit ladder Mary Alice became recognized as a leader in the social work space. Simultaneously Mary Alice was experiencing a transformation of her own. Having recently become a mother and the changing body that goes along with that, she was growing increasingly frustrated with the lack of interesting clothing in her size. Furthermore as a social worker and advocate for human rights, Mary Alice began researching the labor conditions of garment workers around the world and was dismayed.
Out of need and frustration, in 2016, Mary Alice started sewing her clothes, consciously building a self-made wardrobe piece by piece. Documenting her journey and wanting to empower other women, Mary Alice launched a sewing blog, WellSewnStyle.com offering sewing tutorials, style hacks, articles on ethical fashion and body positivity. 
Having been bit by the design bug, Mary Alice enrolled in fashion design school at MADE Institute, attending classes while employed full-time.  With the support of her family, many long nights and work-filled weekends, Mary Alice was able to leave a successful career in the nonprofit sector to launch her company, Alice Alexander in September 2017.
Alice Alexander is a women's apparel brand with attention to quality materials, ethical production and outstanding fit. It's mission is one focused on size-inclusivity and transparency in production. Each piece in the collection is designed, cut and sewn in Philadelphia with plans to open a combined retail/ production space in the near future. The Warm Weather Collection launches for pre-order in mid-March 2018. To shop the collection and learn more about Alice Alexander visit AliceAlexander.co
Sorry, there are no upcoming events