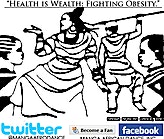 Manga African Dance
About Manga
Manga was founded in 1990 by Ramatu Afegbua-Sabbatt and incorporated in the State of Georgia in 1999. Manga is a 501(c)(3) non-profit organization with a mission to preserve, present and teach indigenous African cultural arts through dance, drums, fashion, drama, songs, and more.
Manga's high energy repertoire exhibits cultural traditions from Western, Central, and Southern Africa. Manga Dance Company offers a three pronged approach to products and service delivery. Dance is offered as entertainment, a healing modality, and educational platform to instruct audiences on the meaning and origins of indigenous African dances.
During Manga's 26 year history, audiences of all ages have experienced the best of African culture and arts!
Great moments in the company history
1990 Afegbua-Sabbatt founded Manga African Dance Company.
1996 Centennial Olympic Games – Recognition of Contribution.
1998 Manga launched its First Annual Osun Festival (Ordained by the King of Osogbo).
1998 FBI/ATF 1st Annual Diversity Festival; Atlanta, GA.
1998-2002 – Festival of Trees; Atlanta, GA.
2000 Manga launched First Annual African Dance and Drum Conference. (Now in its 14th Year).
2015 – Manga was contracted to perform for the Jersey Retirement Ceremony for former Atlanta Hawks superstar, Dikembe Mutombo, live at the Philips Arena.
 We have weekly classes on Sundays
Ongoing Dance Classes
Sundays
 1:30pm-3pm
Any questions??
Call 404 462 5723
email: mangadance@yahoo.com