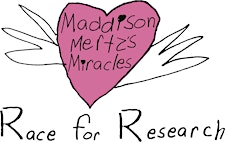 Maddison Mertz's Miracles c/o Children's Cancer Research Fund
Maddison Mertz was a happy, active, beautiful, strong second grader. She loved gymnastics, her sister, her friends, swimming dancing, her dogs, and her family.
On November 18, 2016 Maddison was diagnosed with Stage 4 Glioblastoma Multiforme.  Glioblastoma is a very rare and difficult to treat cancer. On November 15th, Dr. McCue, at Children's Hospital in Minneapolis, removed 95% of the tumor in her cervical spinal cord.  December 5th, Maddison underwent radiation treatments five days a week for six weeks.  
After completing radiation an MRI showed that the cancer had spread to 6 spots in her brain.  Maddison then began numerous rounds of oral and intervenous chemotherapy to try and stop this horrible cancer.  She also received a personalized peptide vaccine. In the end nothing could stop this disease.  Maddison passed away 3 days after her 8th birthday.  
Maddison is dearly missed.  She has made a lasting impact on her community and others who followed her journey.  She showed us how to fight with a smile and never gave up.  
Our mission is to continue her fight.  We are dedicated to raising  awareness and funding for more effective brain tumor treatments.
Sorry, there are no upcoming events