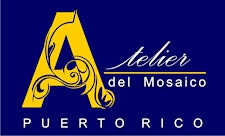 Luis Alberto Rivera, founder of Atelier del Mosaico
El Atelier del Mosaico es la primera y única entidad en su clase en PR, para desarrollar las destrezas de aficionados y artistas del mosaico. Ofrecemos talleres de Mosaico Básico, Relieve, Mosaico escultural, Retrato, Mosaico abstracto, Muralismo, Dalle de Verre y más.
Atelier del Mosaico is a School of Arts. Offering courses like Basic Mosaic, Relief, Sculpture, Portrait, Abstract, Smalti, Dalle de Verre, Murals, and so much more!
Sorry, there are no upcoming events