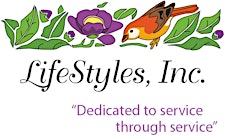 LifeStyles of Maryland Foundation, Inc.
LifeStyles is a nonprofit organization that supports people in crisis by providing emergency assistance and through partnerships provides referrals for health and human service needs. Located in Southern Maryland, LifeStyles is a "one-stop shop" for social and community programs.
Due to COVID-19 restrictions, NO IN-PERSON TAX APPOINTMENTS WILL BE CONDUCTED. Persons must register through Eventbrite to be provided instructions on how to submit their tax information. This VITA site can only provide tax preparation services for persons residing in the following Maryland counties: Calvert, Charles, Prince George's, and St. Mary's. All federal and state tax returns will be prepared one of the following ways:
Virtual: persons with an email address can download our TaxesToGO app and upload all of their tax documents from the comforts of your home! Certified tax preparers can complete your tax returns, and communicate with you via the chat function in the app. Persons can then electronically sign their tax returns for electronic submission.
Please provide COPIES ONLY of the required documents below and bring to one of the following locations: (persons should complete the required forms that are provided at each location. They can ring the door bell or place in the secured, designated boxes outside)

Charles County: 3470 Rockefeller Court, Waldorf; Hours are Mondays - Fridays, 8am - 4pm
Charles County: 101 Catalpa Drive, Suite 103; La Plata; Hours are Mondays - Fridays, 9am - 5pm

Prince George's County: 4715 Marlboro Pike, Capitol Heights; Hours are Mondays - Fridays, 9am - 5pm

Our Volunteer Income Tax Assistance (VITA) program provides free federal and state tax preparation services for households whose total household income was $57,000 or less in year 2020. Tax services are provided by IRS-certified tax preparers, Taxpayers are required to provide the following items for taxes to be prepared correctly:
Photo Identification for tax filers
Social Security Card and/or Individual Taxpayer Identification Number (ITIN) cards for everyone on the return
W-2, 1099 and any other income forms (that total $55,000 or less)
Health insurance verification, i.e., 1095-A or 1099-SA (if applicable)
Documentation for deductions and tax credits, i.e., child care
Proof of bank account, routing and account numbers for direct deposit (if receive refund, and account must have the name of at least one of the tax filers)
A copy of last year's federal and state returns (if applicable)
LifeStyles is no longer able to access former tax returns that have been completed by our tax preparers due to a change in the tax software used. If persons have Schedule C (business income or loss), the expenses have to be $10,000 or less, and expenses cannot be more than income. LifeStyles has the right to deny tax services to any tax filer who does not qualify, is considered "out-of-scope" for our services or may falsify information. All tax documents must be provided by Friday, April 9th for taxes to be prepared by the stated deadline.
Please allow 5 - 7 business days for tax returns to be completed, if all necessary documentation is provided.
Sorry, there are no upcoming events