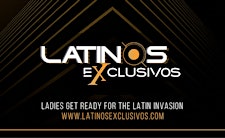 LATINOS EXCLUSIVOS
Ladies get ready for an all new male revue experience.  Top Latin entertainers come together to bring you one of the hottest & wildest show in the US.  Dont take our word for it come experience the show yourself.
Latinos Exclusivos is a high octane fully interactive show.  Filled with choreograph routines from some of the best male revue entertainers in the industry.  You will embark on time ship that will take you through the Mayan time, zoot suits & more.
Ladies get ready for the latin invasion of LATINOS EXCLUSIVOS.
Bachelorette & Birthday girls are always free!!!
So why go anywhere else?
Book your next event with us..
NOTE:
* 1 free admission per group.
* Group has to be a party of 4 or more for 1 free admission.
For more information please visit www.latinosexclusivos.com
www.facebook.com/latinosexclusivos // www.instagram.com/latinos_exclusivos
Sorry, there are no upcoming events